Our Commitment to Accessibility
UCDS is committed to sustaining an inclusive educational environment, accessible to all families interested in a UCDS education. Through the leadership of our Board of Trustees, and with funds made available by our endowment, UCDS provides financial support to help with tuition, after school programs, and other classroom-related expenses.
$1,125,258
2022-2023 Total Tuition Assistance Awarded
1 out of 6
families received financial support
Watch to learn more about Tuition Assistance at UCDS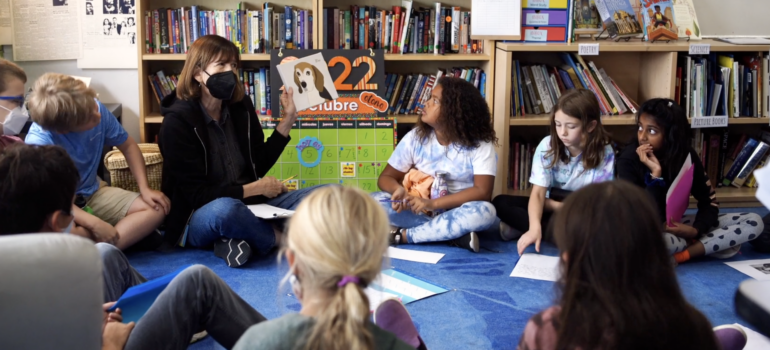 Tuition
Tuition is determined annually by the Board of Trustees. The 2022-2023 school year full-day tuition is $34,915. Field trips, overnights, and special programs create added costs to a family over the course of the school year. Typically, the average additional cost totals around $800 per student. Financial assistance is available for these required curricular events.
A UCDS Education is an Investment for the Future
UCDS provides a quality education that will equip your child with a solid academic foundation and a lifelong love of learning. We recognize the importance of making a UCDS education affordable to everyone. While financing options are available to every UCDS family, tuition assistance grants are based on need. It is our hope that the information that follows will help families with their decision to apply to UCDS.
Tuition Assistance
Applying for tuition assistance and applying for admissions at UCDS are two separate processes. Admissions decisions are need-blind, which is why tuition assistance applications are processed and reviewed solely by our Business Office.
How Do I Apply for Tuition Assistance?
Complete and submit tuition assistance forms online at School & Student Services (SSS) as soon as possible and prior to the due date. Please give complete and accurate information. If PFS applications are submitted late or with incomplete information, families may get only a fraction or none of the aid for which they might be eligible. You may also provide a narrative to UCDS with additional information you want to call to the attention of the Tuition Assistance Committee. The narrative can be included with your SSS documents or it can be sent directly to the UCDS Tuition Assistance Committee, c/o Jill Eagle.
Applying for Assistance Online
Go to the

SSS portal

Click on the prompt to begin your Parents' Financial Statement (PFS). You only have to complete one PFS even if you have multiple children applying to UCDS or to other SSS member schools.
You will be given a password that will allow you to return to your PFS at a later date before submitting for review.
SSS will also indicate required backup documents that should be uploaded into your account. Your documents will be handled with the utmost level of security. To read more about SSS's document security, go to School & Student Services (SSS).
For applications for the 2023-2024 school year, the following must be submitted to SSS no later than February 17, 2023:
Parents' Financial Statement (PFS)

Signed copies of your family's 2021 tax return, including all supporting schedules and forms

2022 W-2s and/or 1099s, as applicable

2021 W-2s and/or 1099s, as applicable
The following must be submitted to SSS as soon as possible, but no later than April 15, 2023:
Signed copy of your 2022 Federal Tax Return, including all supporting schedules and forms.
Final decisions by the UCDS Tuition Assistance Committee will be based on the most recent tax year's data. If the most recent year's document is unavailable before February 17, 2023, a tentative award may be made based on the previous year's tax data. This award will be contingent upon receipt of the most recent tax year's data (due no later than April 15, 2023) and may fluctuate according to changes in your financial situation.
If you receive income from a trade or your own business, please complete a Business/Farm statement (available on the SSS site), to be submitted with your tuition assistance forms. If you are divorced, separated, or have never been married, both natural parents and any step-parents will need to submit separate PFS forms.
Should you require assistance with the SSS forms, you may email or call them at (800) 344-8328 with any questions (Mon-Fri: 9:00 am-7:00 pm EST.).
Families new to UCDS will be notified of their aid status when they receive their enrollment contract. Current UCDS families will be notified by the end of April.
Loan Programs
Your Tuition Solution
Your Tuition Solution specializes in fixed-rate K-12 education loans. You may borrow up to the full tuition cost minus any tuition assistance you receive. The minimum you can borrow is $1,000. There are no origination or application fees or down payment, and terms are available from 24 to 84 months. Interest rates are fixed and are as low as 3.99% APR.
For additional information, see the Your Tuition Solutions website.
Coverdell Education Savings Account
Coverdell Education Savings Accounts ("ESA") provide a means for investing post-tax dollars into an investment fund that can be used to defray the costs of education for students in elementary and secondary schools, as well as for college. Distributions are tax-free, provided they comply with IRS regulations for the ESA. For additional information, see the IRS website. You should consult with your tax advisor regarding these financing tools.
Questions?
At UCDS, we strive to build personal connections with families, so please don't hesitate to call or email. For any questions about tuition assistance at UCDS, your SSS application, or any financing options please contact Stephanie Cisakowski or Jill Eagle at tuitionassistance@ucds.org.