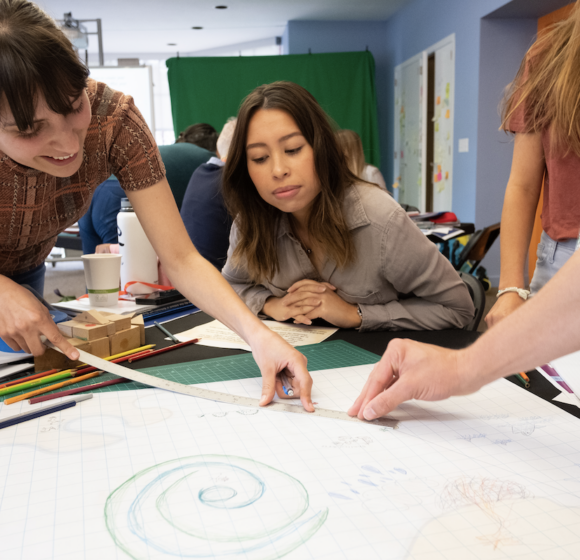 The program develops a feeling of community and involves you in the learning process. There is a balance of listening, speaking, doing, presenting, trying, and learning from mistakes. The faculty are educators who are passionate about their work.
Graduate Course Student
UCDS Graduate School of Education At-A-Glance
The full-time M.Ed. program is designed as a two-year long experience. 48 credits are required to earn a degree. Courses are offered on a bi-annual rotation and students progress through the course of study as a cohort. Extended enrollment options are offered for students who wish to earn their degree in three or four years. Students attend classes in fall, winter, and spring quarters. Summers are open for additional work or other personal opportunities.

The UCDS Graduate School of Education is located in Seattle, WA. Master's degree students attend courses in-person two evenings a week. The UCDS Graduate School of Education building is one mile from the University of Washington in Seattle's University District neighborhood – a fast-growing urban neighborhood in the northeastern part of the city. Free parking is available for students.

The academic calendar extends from late September to mid-June.

The schedule is designed for working educators to enroll in the program.

Courses are scheduled from 4:00 to 8:30pm on Tuesdays and Thursdays. Coursework includes hands-on practicum experiences. If students are working in an educational setting, this can serve as their practicum site. If not, UCDS can help arrange practicum hours at UCDS as well as in other local schools. Practicum hours are flexible and will be completed during the teaching workday. Students can expect to spend up to 24 hours per week in class, engaging in practicum, and completing coursework.

Our faculty are composed of experienced educators and school leaders who work across the Seattle region. You can read more about our core and instructional faculty here.

The UCDS Graduate School of Education enrolls small cohorts of students focused on the art of teaching. Students may enroll full-time and complete the program in two-years. Extended enrollment options are also available for students who wish to earn their degree in three or four years.

For enrollment in the 2023-2024 school year, tuition will be $14,508.

UCDS is excited to offer multiple options to help students pay for their degree. Detailed information about applying for scholarship funds, the UCDS M.Ed. Fellowship, or employer matching grants can be found here.

For Washington State residents seeking information and resources about student loan repayment or seeking to submit a complaint relating to your student loans or student loan servicer, please visit www.wsac.wa.gov/loan-advocacy or contact the Student Loan Advocate at loanadvocate@wsac.wa.gov.

The UCDS College for School Culture is small by design. Advising and student support services are highly personalized. The Student Services Director maintains regular contact and a consistent presence throughout the program to support students' progress toward their professional goals. The faculty dedicates significant time and attention to every student in the program. Advising and guidance are built into the course of study through the Cornerstone work in the first year and Capstone during students' last year, which focus on practicum experiences, program synthesis across courses, project planning, and goal setting.

Completing a Capstone action research project is a degree requirement for the M.Ed. program. Successful Capstone projects demonstrate evidence of inquiry, collaboration, innovation, communication, and reflection. Students design their projects in a Capstone course series through a mentored process. Each project is designed around the student's educational questions to explore and shape the student's educational philosophy and practice. The Capstone project gives Master's candidates an in-depth experience in reflective practice, educational research, and teacher leadership, essential tools for educational leaders.

To support educational and research needs, UCDS Graduate School of Education Master's degree candidates have access to two libraries: the UCDS Library and the University of Washington Libraries.

University Child Development School is authorized by the Washington Student Achievement Council and meets the requirements and minimum educational standards established for degree-granting institutions under the Degree-Granting Institutions Act. This authorization is subject to periodic review and authorizes University Child Development School to offer specific degree programs. The Council may be contacted for a list of currently authorized programs. Authorization by the Council does not carry with it an endorsement by the Council of the institution or its programs. Any person desiring information about the requirements of the act or the applicability of those requirements to the institution may contact the Council at P.O. Box 43430, Olympia, WA 98504-3430 or by email at degreeauthorization@wsac.wa.gov.

The transferability of credits earned at University Child Development School is at the discretion of the receiving college, university, or other educational institution. Students considering transferring to any institution should not assume that credits earned in any program of study at University Child Development School will be accepted by the receiving institution. Similarly, the ability of a degree, certificate, diploma, or other academic credential earned at University Child Development School to satisfy an admission requirement of another institution is at the discretion of the receiving institution. Accreditation does not guarantee credentials or credits earned at University Child Development School will be accepted by or transferred to another institution. To minimize the risk of having to repeat coursework, students should contact the receiving institution in advance for evaluation and determination of transferability of credits and/or acceptability of degrees, diplomas, or certificates earned.

This program is not intended to lead to educator certification. Educators are advised to contact their individual school districts as to whether this program may qualify for salary advancement.
Statement of Purpose
The UCDS Graduate School of Education engages educators to develop, extend, and deepen their practice and passion for learning and leading.
Through a professional cohort, immersive practicum, and action research, graduates gain tools to contribute to the field of education and inspire future teacher leaders. Graduates offer their school communities a foundational culture marked by communication, collaboration, reflection, inquiry, and innovation. These core values spark enthusiasm to transform education.