What's Happening on Thursday Night?
The UCDS Institute is excited to announce a new initiative to provide affordable and engaging professional development for educators. The UCDS Thursday Night workshop series is a weekly opportunity for teachers in the region to have fun and elevate your professional practice.
The cost to attend each workshop is $40 per participant. This fee includes clock hours. Proceeds from hands-on arts workshops also provide support for the Creative Fusion arts program by paying artist salaries and providing scholarships for students to participate in this unique program.
The full catalogue of courses offers a range of topics for educators who work from early childhood through high school. Most workshops offer hands-on experiences that give participants the chance to learn by doing. The 2019-2020 line-up is open for registration now.
Upcoming Offerings
Financial Literacy from Early Childhood to On Your Own
Thursday, January 16, 2020
6-8:00pm
Instructors: Stephanie Cisakowski & David Garrick
REGISTER TODAY
Helping young people become financially literate is an essential skill that is often left until the last minute – or worse – until a moment of crisis. This workshop is a chance for teachers (and parents) to approach the topic in a way that helps young people learn basic financial skills BEFORE a crisis ensues. Participants will learn some financial basics and a few fun ways to practice these skills with our students and children.
Instructors: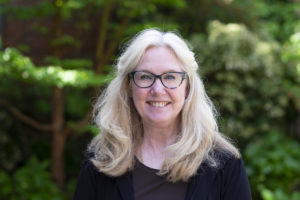 Stephanie Cisakowski is the CFO of UCDS. She has over twenty years of experience working as a CFO for independent schools in the Puget Sound region. Stephanie began her career in public accounting as a licensed CPA. Stephanie began working for her three daughters' independent school (20 years ago) when her oldest daughter started school. Her scope of expertise is extensive and it includes the full complement of corporate finance, accounting, budgeting, banking, treasury, internal controls, and reporting functions.
Stephanie is an advocate of teaching financial literacy. Financial literacy gives constituents the knowledge needed to make important financial decisions. Stephanie really saw the need of teaching her daughters financial literacy as they became middle school students earning money for the first time. Financial literacy can begin at a very early age — early financial literacy teaches children how to have a good relationship with money and financial management. Stephanie holds a Bachelors of Business Administration with dual majors: Accounting and Finance from Gonzaga University.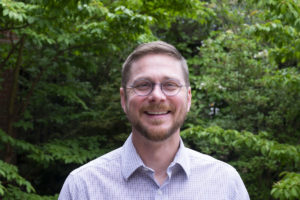 David Garrick is the Dean of the Graduate School of Education at the UCDS College for School Culture. He has been an educator, administrator, and consultant for over twenty years. David has led workshops and classes for adults across the country that include topics such as, concretizing concepts with hands-on learning, inquiry based teaching, student advocacy, and arts integration. David holds a B.A. in History from the University of Washington and an M.A. in Fine Arts from the University of Montana. He earned his Washington State teaching credentials from Western Washington University. David specializes in teaching about the impact of school culture on student success by identifying cultural elements that support engagement of both students and teachers.
---
Chine-collé Printing Techniques
Thursday, January 23, 2020
6-8:00pm
Instructor: Sheila Coppola
REGISTER TODAY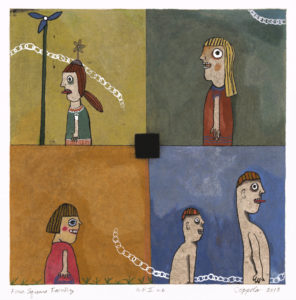 Chine-collé is a special printmaking technique in which paper of a different color or texture is adhered to the overall piece. This technique allows artists to explore a type of layering and texturizing prints that actually bonds different weights of papers during the printing process. Participants in this two-hour, hands-on workshop will explore the process of using chine-collé in printmaking as well as learn about alternative plate-making techniques for making print-art. All levels of experience are welcome and encouraged to attend.
Instructor:
Sheila Coppola has spent the last 30 years working with and for visual artists, helping them to realize their personal visions through the medium of original printmaking. In 1982 she co-founded Ink on Paper and worked under the direction of master lithographer Charles E. Matson. Although she learned a great deal about lithography, her interest and passion have always been in the more three-dimensional forms of printing known as intaglio and relief. In 1996, she founded Sidereal Fine Art Press, which she continues to operate today in Tukwila, Washington. Sheila has also been fortunate to work closely with many Northwest artists, sharing and trading information, learning, teaching and experimenting in one of the most intimate forms of artistic collaboration. She owes most of what she knows to this rich collection of collaborative experiences, and is most grateful to all the artists, designers and printers who have generously shared their knowledge and vision with her.
Sidereal Fine Art Press (SFAP) is located in a renovated pole barn in Tukwila, Washington. The press specializes in intaglio and relief printmaking and provides professional technical services for creating original print editions. Owner and printer Sheila Coppola works one-on-one with each artist in a collaborative environment where experiments, ideas and learning nurture a working process "in service to the artist's image." SFAP has collaborated with many talented artists and some of their work can be viewed on the website. SFAP is a "by appointment" only studio, however inquiries and visits are encouraged by contacting Sheila at 206.298.9803 or by visiting www.sfapress.com. Sidereal is pronounced sy-DEER-e-al and is an adjective used in astronomy which means: "of, relating to, or expressed in relation to the stars or constellations."
---
The Experience Painting Project
Thursday, January 30, 2020
6-8:00pm
Instructor: Matthew Offenbacher
REGISTER TODAY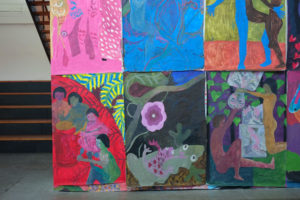 This workshop will lead you through a series of short kinesthetic exercises designed to give you a taste of the pleasures of moving paint around on large surfaces, mixing colors, using your body as a mark-making tool and enjoying working with others. We will emphasize body awareness, suspending judgment and worry, embracing mistakes, relaxation and flow. Where does your creative expression productively meet others in the context of community? This workshop is appropriate for anyone with any amount of experience. Wear paint-friendly clothing.
Instructor:
Matthew Offenbacher is an artist who seeks constructive, positive positions at often difficult intersections of individuals, communities and institutions. His work has been called "freakishly egoless", vulnerable, funny and queer. His most recent exhibition was "Feelings" (2019), a painting and dance performance installation at Oxbow, Seattle. He has taught at Seattle University, the Pacific Northwest College of Art and the University of California, San Diego. More about Matt's work.
---
Handmade Books, Alphabets, and Writing Tools
Thursday, February 6, 2020
6-8:00pm
Instructor: Diane Chickadel
REGISTER TODAY
Explore a variety of techniques for making books and filling them with various calligraphic techniques. Pair this course with "Kids CAN Read & Write Cursive" (January 9) or begin tonight. In this hands-on workshop, participants will learn various folding and binding techniques for making books as well as some new alphabetic styles to fill them.
Instructors:
Diane Chickadel has been a classroom teacher and administrator for over 40 years. In addition, she is a fiber artist, artist's bookmaker and calligrapher. Her books and calligraphy work have been exhibited on the East Coast and locally. Her artist's book, Con L'occhio, designed with students at UCDS, was awarded best children's book at the Seattle Book Arts Fair.
Karin Vance Chickadel is an artist living in the Seattle area. As part of a military family, she travelled throughout her youth and as an adult has made the Northwest her home. In 1998, she received a BA in Interdisciplinary Arts and a BS in Psychology from the University of Washington. After working in sculpture for years, Karin discovered the niche of artists' books while earning her MA in Art Therapy at the School of the Art Institute of Chicago. She went on to focus her studies in book arts at Columbia College Chicago, where she earned her MFA in Book and Paper Art in 2005. She has exhibited her work in galleries across the United States and has been published in American Craft magazine. She was a GAP recipient in 2014. She has taught general art and book arts to a range of ages from preschool students to adults. In her current body of work, she creates sculptural books that explore the beauty of skylines, silhouettes and neighborhoods.
---
Writing for Real (2 Night Workshop)
Thursday, February 13 & 27, 2020
6-8:00pm
Instructor: Carmine Chickadel
REGISTER TODAY
Do you want to hone your writing teaching skills and sharpen your own personal writing skills? "Writing for Real" is a two-session workshop that will help you design experiences and prompts to inspire students to be more creative and authentic in their writing attempts. We will discuss and practice ways to help students discover their voices and their stories. We will try out these techniques ourselves and learn by doing so we can truly understand the process of writing.
Instructor:
Carmine F. Chickadel has been an educator for over 40 years. Presently he is consulting with schools in the areas of assessment, school culture and educational leadership. He was also the co-founder, with writer Frances McCue, of The Hugo Teaching Studios, a venue for writers to become reflective, adept and creative teachers of writing. He has taught at Seattle University and the University of Montana in their Graduate Education programs. He is author of a 2015 collection of poetry, Houdini Right Where I Want Him and five limited edition artist's books with artist, Dennis Evans.
---
Paint, Draw, Print, Redraw
Thursday, March 5, 2020
6-8:00pm
Instructor: Eric Chamberlain
REGISTER TODAY
---
Love that Poetry! Learning to Read, Write and Integrate Poetry
Thursday, March 12, 2020
6-8:00pm
Instructor: Melinda Deal and Nancy Kiefer
REGISTER TODAY
---
Experimental Weaving on Informal Looms
Thursday, March 19, 2020
6-8:00pm
Instructor: Emma Royer
REGISTER TODAY
---
Using Literature to Help Young Students Discuss Race and Develop Empathy
Thursday, March 26, 2020
6-8:00pm
Instructor: Namrata Kulkarni and Patrick King
REGISTER TODAY
---
Alternative Photography: Approaches for Capturing and Printing Images
Thursday, April 16, 2020
6-8:00pm
Instructor: Kathy Fridstein
REGISTER TODAY
---
New Art Forming: Hands-on Workshop in Art and Technology
Thursday, April 23, 2020
6-8:00pm
Instructor: Ben Chickadel and Jessica Garrick
REGISTER TODAY
---
Everyday Museum of Like
Thursday, April 30, 2020
6-8:00pm
Instructor: Dawn Cerney
REGISTER TODAY
---
Color Theory Redux
Thursday, May 14, 2020
6-8:00pm
Instructor: Gala Bent
REGISTER TODAY
---
Two-Part Silicone Mold-Making
Thursday, May 21, 2020
6-8:00pm
Instructor: Eva Funderburgh
REGISTER TODAY