What's Happening on Thursday Night?
The UCDS Institute is excited to announce a new initiative to provide affordable and engaging professional development for educators. The UCDS Thursday Night workshop series is a weekly opportunity for teachers in the region to have fun and elevate your professional practice.
The cost to attend each workshop is $40 per participant. This fee includes clock hours. Proceeds from hands-on arts workshops also provide support for the Creative Fusion arts program by paying artist salaries and providing scholarships for students to participate in this unique program.
The full catalogue of courses offers a range of topics for educators who work from early childhood through high school. Most workshops offer hands-on experiences that give participants the chance to learn by doing. The 2019-2020 line-up is open for registration now.
Current Offerings
Celebrate Dia de los Muertos: A Spanish/Art Collaborative Workshop
Thursday, October 17, 2019
6-8:00 pm
REGISTER TODAY
Join UCDS teachers Lupe Galarza, Jessica Garrick, and Martha Schwartz for a hands-on workshop designed to help you celebrate Dia de los Muertos in your school. This workshop will discuss the cultural significance of this tradition and share activities and strategies for establishing or enhancing this tradition in your school. Participants will leave with ideas for cultural and artistic activities that can be used in any classroom or even at home.
Instructors:
Lupe Galarza, a native from Lima, Perú, has been teaching at UCDS for 16 years. With a background in theater, music, and film, she has learned through the years to knit all of these skills together to make Spanish learning a very enjoyable experience for the students. Reaching to all the different abilities and types of learning is a consistent goal for her when working in the classroom.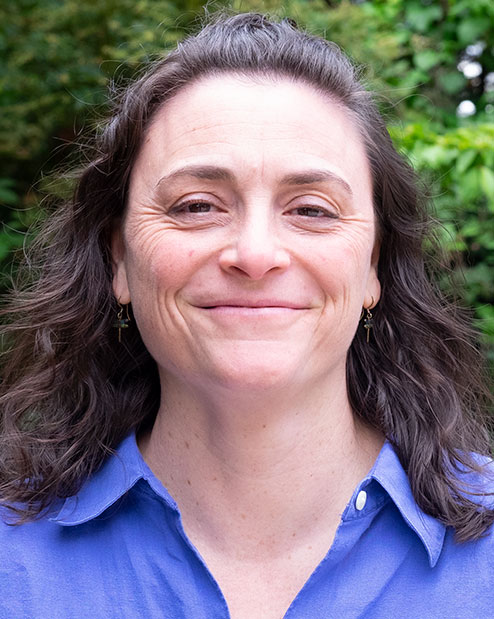 Jessica Garrick is an artist and teacher living in Seattle, Washington. She has been the Art Specialist at UCDS for 25 years, working with students from age 3 to 11. Jessica collaborates on curriculum development with teachers from a variety of disciplines and consults with teachers to develop art curriculum. She co-founded and co-directs the Creative Fusion summer arts program that connects Northwest artists and children to make art during a week-long studio experience. Jessica earned her BFA in visual arts and MA in Integrated Arts and Education from the University of Montana.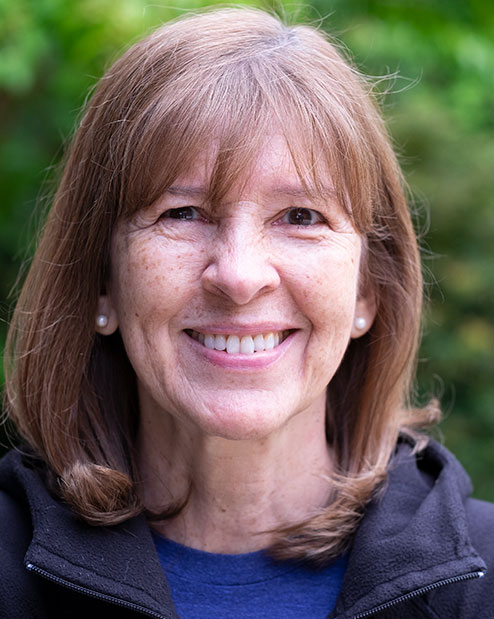 Martha Schwarz has been teaching Spanish at UCDS for 28 years. She was born in Lima, Perú, where she taught Spanish as a Second Language before moving to the United States. She holds a BA in Latin American History from the University of Texas at Austin. Twenty four years ago, she began the tradition of celebrating El día de los muertos at UCDS with students creating the first ofrenda. Since then, this cultural celebration has grown and become an important part of our school community.
---
Skills-based Assessment and Beyond: Clearly Communicating About What Students Know and What's Next
Thursday, October 24, 2019
6-8:00pm
REGISTER TODAY

Schools are always looking for new ways to communicate clearly about what students can do and what is next. This workshop will discuss the advantages of moving beyond grades to communicate student progress. UCDS College for School Culture Dean, David Garrick will share the case study of UCDS' experience of moving to skills-based assessments over twenty years ago. He will discuss strategies for creating community buy-in, articulate the advantages and challenges of skills-based assessment, and share insights about what more can be done to help students and parents better understand what a student is doing in school.
Instructor: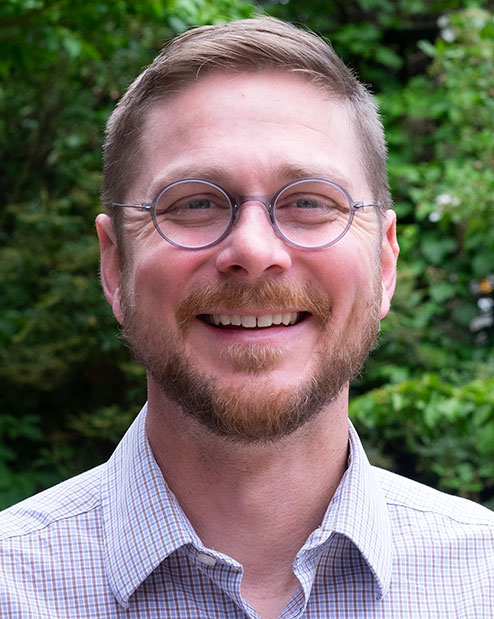 David Garrick is the Dean of the Graduate School of Education at the UCDS College for School Culture. He has been an educator, administrator, and consultant for over twenty years. David has led workshops and classes for adults across the country that include topics such as, concretizing concepts with hands-on learning, inquiry based teaching, student advocacy, and arts integration. David holds a B.A. in History from the University of Washington and an M.A. in Fine Arts from the University of Montana. He earned his Washington State teaching credentials from Western Washington University. David specializes in teaching about the impact of school culture on student success by identifying cultural elements that support engagement of both students and teachers.
---
Visiting Artist!
Connecting Seattle to Mexico: A hands on workshop with artist Fulgencio Lazo

Thursday, November 21, 2019
6-8:00pm
REGISTER TODAY

Since the 1990's Fulgencio Lazo has worked with Museums and Schools to create tapetes (sand paintings) for Dia de los Muertos celebrations. Fulgencio's tapetes are inspired by Oaxaca's beautiful traditions for celebrating Dia de Los Muertos. In this workshop Fulgencio will share about his new art book, current body of work, and he and will talk about the process for creating a tapete. Participants will learn by doing as they make mini tapetes of their own.
Instructor:
Trained as a printmaker, Fulgencio Lazo works predominantly with acrylics on canvas in his studios in Seattle and Oaxaca, Mexico. He has had over 40 solo shows throughout the United States, Mexico, Japan and France, and has numerous pieces in public collections. He enjoys making installations for Day of the Dead at many Seattle area museums, schools and community centers. Find out more about Fulgencio Lazo and his work at his website or on his blog.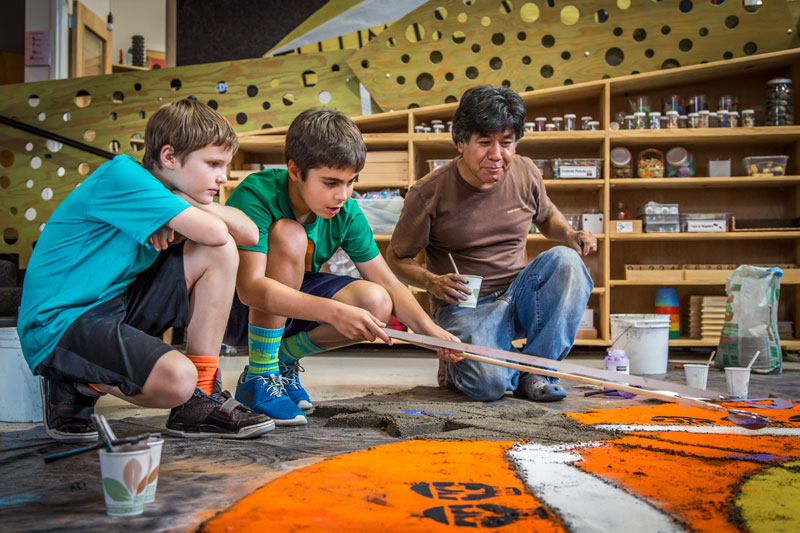 ---
The Language of Movement in Early Childhood 

Thursday, December 5, 2019
6-8:00pm
REGISTER TODAY

Movement is a vital part of children's communication and development of social emotional skills; however, it is not always a central focus of early childhood education. This workshop will highlight the ways in which movement and nonverbal communication develop in infancy and early childhood and how we can focus on movement development to support our children in their social-emotional growth. Through discussion and movement activities we will explore theoretical and practical applications of movement in our classrooms.
This workshop will be taught in a way that is accessible for those with varying levels of ability. We aim to create an accessible movement space that allows for the participation of every student. Stars Credits are also available for this workshop.
Instructors:
Marion Reader is a dancer, choreographer, and early childhood educator currently based in Seattle. They are a graduate of Mills College in Oakland, CA with a B.A. in Dance + Psychology. Marion has been teaching arts and movement to young people for nearly a decade in Seattle and the Bay Area. They firmly believe in the power of arts and movement for all youth. Marion hopes to bring an increased awareness and excitement about movement to other educators to find more diverse and accessible ways of shaping students' experiences in this big wide world.
Katie Walters-Krohn has been at UCDS for 13 years and is the director of the Infant/Toddler Education Program. She has also worked as a resident teacher in the 1-2s and as a classroom teacher in the Infant/Toddler program. Katie holds a M.S. in Early Childhood Public Policy and Advocacy from Walden University and a B.A. in Elementary Education and Liberal Studies from Smith College.
Upcoming Offerings
Kids CAN Read & Write Cursive: A hands-on calligraphy workshop
Thursday, January 9, 2020
6-8:00pm
Instructor: Diane Chickadel
REGISTER TODAY
---
Financial Literacy from Early Childhood to On Your Own
Thursday, January 16, 2020
6-8:00pm
Instructors: Stephanie Cisakowski & David Garrick
REGISTER TODAY
---
Chine-collé Printing Techniques
Thursday, January 23, 2020
6-8:00pm
Instructor: Sheila Coppola
REGISTER TODAY
---
The Experience Painting Project
Thursday, January 30, 2020
6-8:00pm
Instructor: Matthew Offenbacher
REGISTER TODAY
---
Handmade Books, Alphabets, and Writing Tools
Thursday, February 6, 2020
6-8:00pm
Instructor: Diane Chickadel
REGISTER TODAY
---
Writing for Real (2 Night Workshop)
Thursday, February 13 & 27, 2020
6-8:00pm
Instructor: Carmine Chickadel
REGISTER TODAY
---
Paint, Draw, Print, Redraw
Thursday, March 5, 2020
6-8:00pm
Instructor: Eric Chamberlain
REGISTER TODAY
---
Love that Poetry! Learning to Read, Write and Integrate Poetry
Thursday, March 12, 2020
6-8:00pm
Instructor: Melinda Deal and Nancy Kiefer
REGISTER TODAY
---
Experimental Weaving on Informal Looms
Thursday, March 19, 2020
6-8:00pm
Instructor: Emma Royer
REGISTER TODAY
---
Using Literature to Help Young Students Discuss Race and Develop Empathy
Thursday, March 26, 2020
6-8:00pm
Instructor: Namrata Kulkarni and Patrick King
REGISTER TODAY
---
Alternative Photography: Approaches for Capturing and Printing Images
Thursday, April 16, 2020
6-8:00pm
Instructor: Kathy Fridstein
REGISTER TODAY
---
New Art Forming: Hands-on Workshop in Art and Technology
Thursday, April 23, 2020
6-8:00pm
Instructor: Ben Chickadel and Jessica Garrick
REGISTER TODAY
---
Everyday Museum of Like
Thursday, April 30, 2020
6-8:00pm
Instructor: Dawn Cerney
REGISTER TODAY
---
Color Theory Redux
Thursday, May 14, 2020
6-8:00pm
Instructor: Gala Bent
REGISTER TODAY
---
Two-Part Silicone Mold-Making
Thursday, May 21, 2020
6-8:00pm
Instructor: Eva Funderburgh
REGISTER TODAY