Current Offerings
Summer Workshop: Constructing Mathematical Understanding
Spring Quarter Course: Designing for Democracy
Please scroll to read details and to register.
---
Constructing Mathematical Understanding - Summer 2019
Dates: August 12-16, 2019
Time: 9:00am-3:30pm daily
Location: UCDS Campus, Seattle, WA
Fee: $440 ($400 for early birds until May 1st)
Credit and clock hours available after registration.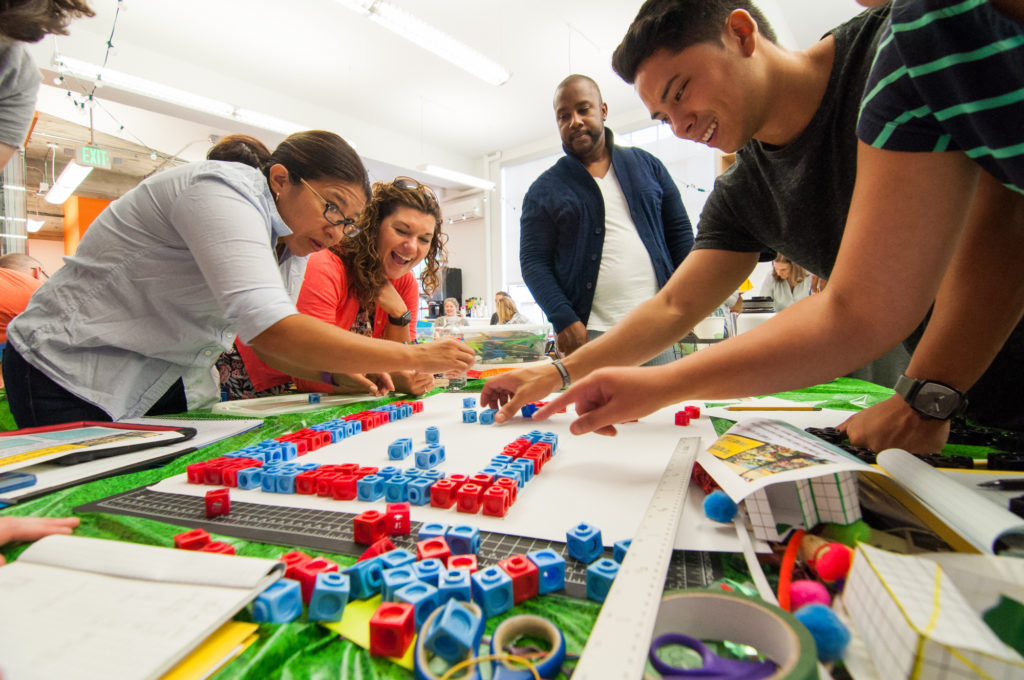 This five day course is designed for pre-K, elementary, and middle school educators. Participants will experience a fun and theme based way to teach math across all the subject areas! This hands-on interactive course offers techniques for teaching math concepts through a variety of student learning style approaches. In addition, we highlight how to blend these varied techniques with traditional teaching methodologies and grade level requirements. Learn unique ways to use manipulatives for teaching new concepts, extending current understandings as well as for easy and detailed assessments.
The techniques explored in this course will work in conjunction with your existing curricula. Nobody attending this course will be put on the spot to share their mathematical skills, so whether you are a math expert or not, you will have fun while learning new techniques to take back to your classrooms.
For teachers of pre-K through 8th grade

Explore ways to use a theme to weave math into your literature, science, writing and social studies projects.

Differentiated and hands-on approach

Learn how to introduce, refine and extend specific math concepts for your students through the use of hands-on materials.

Develop teaching and assessment techniques that align with various levels of student understanding and curricular standards for each math strand.

Apply these new concepts and techniques directly to your school's current math curriculum

All experience levels welcome. Come and explore!
Instructors
Melissa Chittenden is currently the Assistant Head of School at University Child Development School. Melissa has worked as a teacher and school administrator for more than 30 years. She is also an adjunct professor at Seattle Pacific University. She is an international presenter and consultant for curricular topics as well as the author of an upcoming hands-on math book for elementary teachers. Melissa holds an MA from Seattle University in Non-Profit Business Leadership, a BA in Human Development and Education as well as an AA in Early Childhood Education. She specializes in teaching educators throughout the world how to use hands-on math activities in ways that support the various student learning styles found within every classroom.
David Garrick is the Dean of the Graduate School of Education at the UCDS College for School Culture. He has been an educator, administrator, and consultant for over twenty years.  David has led workshops and classes for adults across the country that include topics such as: concretizing concepts with hands-on learning, inquiry based teaching, student advocacy, and arts integration.  David holds a B.A. in History from the University of Washington and an M.A. in Fine Arts from the University of Montana. He earned his Washington State teaching credentials from Western Washington University.  David specializes in teaching about school culture's impact on student success by identifying cultural elements that support student and teacher engagement.
---
Designing for Democracy: Student Agency and Advocacy in the Classroom - Spring 2019
Dates: Saturday, April 27th from 9:00am-1:30pm at UCDS
Thursdays, May 2, 16, 23, 30, June 6, 13 from 4:30pm to 7:00pm at UCDS
School visits to be scheduled for the weeks of May 20 or May 27.  School(s): TBD
Location: UCDS Campus, Seattle, WA
Fee: $490, all course materials included.
Optional costs (billed after the start of class): $40 for 20 clock hours or $110 for 2 graduate credits available through Seattle Pacific University.
Credit and clock hours available after registration.
How does social-emotional learning intersect with academic learning? How can you amplify student agency and advocacy to empower students as stewards of their own learning? How can we design school and classroom cultures that cultivate and respond to student voice and identity?
This course is a fantastic option for educators who are interested in creating engaged and empowered democratic citizens. The course will examine how social-emotional learning intersects with academic learning. Students will explore and discuss strategies to increase student agency and advocacy and create thriving learning communities marked by shared understanding, ownership, and respect.
Over eight weeks, educators will take a deep dive into what constitutes student agency and advocacy in a classroom or school. Participants will explore questions that surround this centerpiece of young students' experience:
How does having a voice affect a student's learning and life experience?

How do we design a school and classroom culture that cultivates and responds to student agency and advocacy?

How can students develop stewardship of their own learning experiences and communities?

How can teachers facilitate growth in these areas?
Participants are invited to grapple with these and other questions through lively discussions, hands-on projects, readings, and school observations. Participants will help shape our exploration of student agency and advocacy. They will come away with understandings and strategies for deepening student engagement that are applicable to our own educational communities. This is a unique opportunity to connect, collaborate, and network with local professionals in an interactive, collegial environment.
Course Objectives
Examine the role of student agency and advocacy in their own school and classroom culture.

Explore student agency and advocacy as an avenue for deepening student engagement and learning.

Engage with practical strategies for cultivating student agency and advocacy in a variety of school contexts, including:

Self-advocacy in social and academic problem solving

Partner, small-group, and whole-class discussion and decision making

Curriculum design, classroom norms, and democratic school governance

Consider the developmental nature of student agency and advocacy across age groups, and the balance between teacher decision-making and student decision-making.

Practice cultivating student agency and advocacy in their own school settings, and reflecting on their experiences, challenges, and outcomes.
Instructors
Melinda Deal: UCDS Multi-disciplinary Teacher
Melinda has been an enthusiastic teacher of every grade level from p-K through 8 for 35 years. After teaching for a decade in New York State public schools, she joined the faculty at University Child Development School, where she has been a classroom teacher, a curricular support teacher for Arts, Science, and Technology Specialists and a presenter at local and national conferences. Melinda holds a B.A. in Education and Psychology from the University of Washington and a M.A. in Educational Programming from the University of Connecticut.
Lelia Yerxa: UCDS Classroom Teacher
Lelia has been teaching for over 10 years. She has been on the faculty at University Child Development School for four years, teaching in 1st grade through 4th grade classrooms. Before this, she taught at the elementary level in New York City public schools and taught English as a Foreign Language to children and adults in Moscow, Russia. She has also worked in staff development at Songadeewin of Keewaydin, a summer camp in Vermont, for 14 years. Lelia holds a B.A. in International Politics and Economics and Russian from Middlebury College, and an M.A. in Elementary Inclusive Education from Teachers College, Columbia University.
Katharine Sjoberg: UCDS Division Head and Classroom Teacher
In her 15 years at UCDS, Katharine has taught Preschool through 5th grade. She oversees the UCDS Service Learning program and guides 5th grade students through individualized year-long service learning projects. Katharine has presented and instructed at conferences and workshops nationwide, including the annual UCDS Institute's Math Workshop. Katharine holds a B.A. in Mathematics from Mount Holyoke College and an M.A. in Teaching from Seattle Pacific University.
Susan Foley: UCDS Classroom Teacher and UCDS All School Meeting Advisor
Susan has been teaching for 28 years.  Before coming to UCDS, Susan taught Preschool-Kindergarten and was the Interim Director at HHCC Daycare in Boston, MA. In her more than 20 years at UCDS, Susan worked with students from early-childhood through 4th grade. She has advised the UCDS All School Meeting since it began nearly 25 years ago. She has presented about student agency and advocacy through class meetings and all-school meetings at the NWAIS fall conference. Susan holds a B.A. in Psychology and Education from The University of Massachusetts and an M.A. in Special Education from The University of Washington.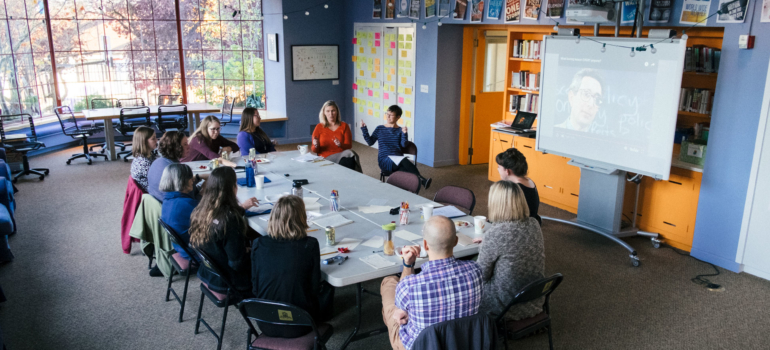 Meaningful, Hands-On Professional Development
The UCDS Institute hosts a variety of events, courses, and educational workshops throughout the year. Our offerings range from one-off evening seminars and speaker events to intensive, credit-bearing courses. Our instructors are experienced UCDS teachers and workshops are designed so that the techniques explored will work in conjunction with your existing curricula. Our expert faculty designs workshops and courses to be informative, hands-on and most of all, fun!

Recent Courses and Workshops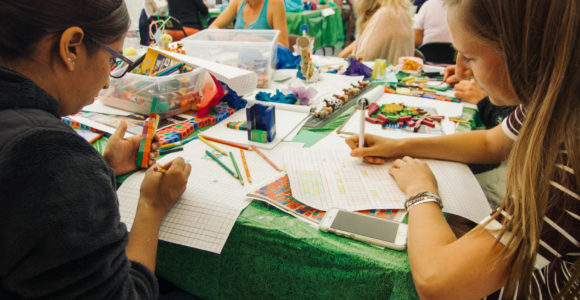 Mathematics
Constructing Mathematical Understanding
For almost 25 years, teachers from around the world have attended this week-long workshop. This hands-on, interactive course offers techniques for teaching math concepts through a variety of student learning style approaches. Participants experience a fun, theme based way to teach math across all the subject areas.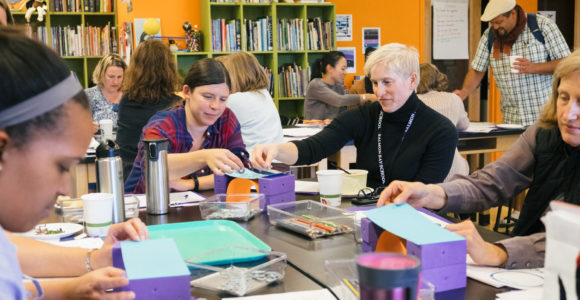 Science
Lab Notebooks in the Pre-K & Elementary Classroom
Always in demand, UCDS faculty have been invited to present this course all over the country. Participants learn how to teach data collection, analysis, and recording for preschool and elementary-aged children. Our series of lab-based science workshops are annual favorites on campus and around the country.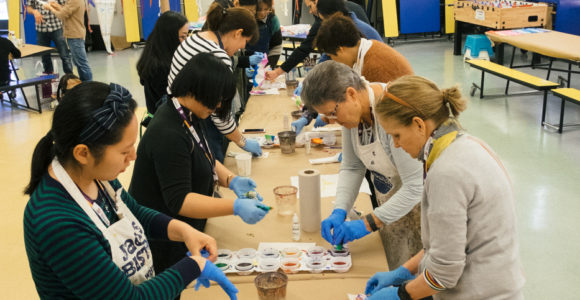 Visual Arts and Design
The Art, Science, and Design Engineering of Kites
In conjunction with the 2018 National Art Education Association (NAEA) Annual Conference, UCDS welcomed teachers from around the world to our day-long kite-making workshop. Beyond the visual arts, this STEAM course focused on creating multi-discipline curricula.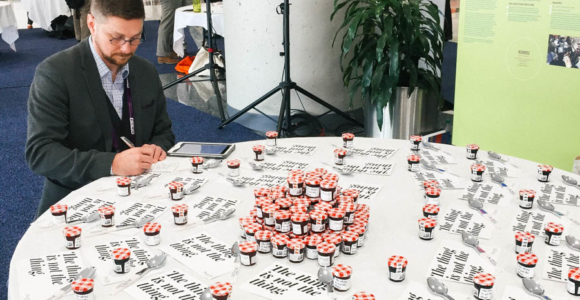 Innovation & Leadership
Flipping the Graduate School Model
For many years, the National Association of Independent Schools (NAIS) has invited UCDS to present at their annual conference. In 2018, UCDS led a workshop at the "Innovation Kitchen" on how our own school culture determines what types of challenges our institution takes on.
Host a Workshop at Your School
Whether held on our Seattle campus or hosted at your school, UCDS Institute workshops are some of the most informative and fun professional development you'll find anywhere! Contact us to learn more about how you can host or attend one of our events, courses, or workshops.